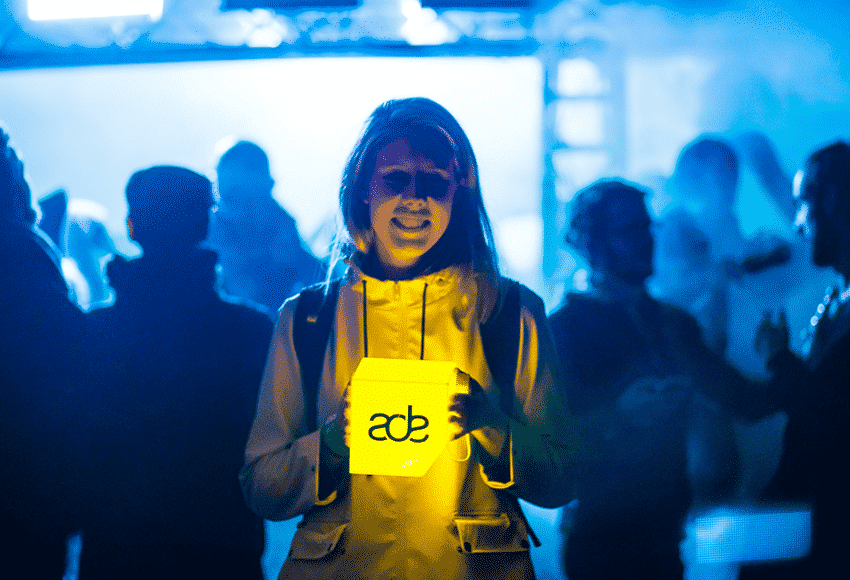 Amsterdam Dance Event Taxi Tips
The world-famous electronic music festival and conference Amsterdam Dance Event (ADE) will be celebrated in full force again in 2023!
ADE starts on October 18th and runs until October 22nd. Book your taxi to or from the events at Staxi. Why? Because you'll always get a fixed price for your taxi when you pre-book with us.
You'll arrive at the event all relaxed and most importantly, you'll get home safely when you travel to and from ADE by taxi.
Of course, being picked up at home or your hotel isn't a big challenge. But finding your pre-booked taxi after a big party like Into the Woods or DGTL can be a bit of a hassle. We've listed a few tips to locate your assigned taxi below:
1. Book your ADE taxi well in advance
During big events such as ADE, it's enormously busy at our taxi dispatch center. So busy, in fact, that we sometimes have to turn customers away. Therefore, our first tip is: book your taxi well in advance!
As soon as there are more reservations than drivers available, we have to increase the minimum reservation time. Normally in Amsterdam, you can book a Staxi up to 15 minutes in advance. If the demand for taxis becomes extraordinarily high, we'll have to increase the minimum booking time. When that happens, you can still book a taxi, but it'll be for maybe half an hour or an hour upfront.
It can also happen that it's so busy that we increase our fixed rates by a percentage. We do this when the supply of available taxis is surpassed by demand. For instance, when big events end, everyone wants to leave simultaneously. Often, this results in disorganised chaos.
2. Don't miss out on your fixed price
Our fixed prices give certainty about the costs for your taxi ride. The further away you travel with us, the higher the discount!
An additional benefit of a set price is that the amount on the taximeter does not increase during your trip. Grinding your teeth while watching the price rise faster than the speed of light, well, that's a thing of the past.
The only thing you need to do is make sure you board the taxi that is assigned to you. Of course, we'll give you a hand:
3. Book your ADE taxi online
If you book your taxi online, you will receive confirmation by SMS. Twenty minutes before the requested pick-up time, you will receive a text message informing you that the taxi is on its way to you. You will see the name of your driver, the make and model of the vehicle he drives and the license plate number. You can call the driver directly from the attached track & trace link.
4. Wait for your taxi
At the end of the larger ADE parties, such as Awakenings in the Gashouder, Martin Garrix in the RAI or AMF in the Johan Cruyff ArenA, there are often hundreds of taxis in the area. It may be a bit of a challenge to find the taxi that has been assigned to you.
Your driver will always be able to show that he's been reserved for you. Usually, the job is visible on the taxi driver's onboard computer. Some drivers receive their jobs on an app. In any case, you should recognise the destination address immediately. That's the address you stated when you made the reservation.
This driver – your driver – will bring you home for the agreed price. If you get into the wrong taxi, the meter will start to run, and you don't know what you'll eventually have to pay.
5. Make sure we can reach you on your phone
We can't help you if we can't reach you. The driver will always try to call you; the dispatch center mainly works with WhatsApp. When you make a reservation, it's useful to give us an extra phone number from a friend who's also joining the party. Another idea could be to take a power bank with you so you can recharge your phone at the end of the party.
When you still have enough battery power, you can share your live location with your driver through WhatsApp. If he also shares his location with you, you'll see your flags on the map moving towards each other until you have found each other.
6. If you take a random taxi
If you decide to randomly step into one of the many taxis on the street, we also have a few tips for you:
Calculate online how much the taxi will cost;
Turn on your navigation so that you can check that the driver is not detouring;
If necessary, try to agree on a price with the driver before the start of the trip;
Always ask for a receipt at the end of the ride.